Back to all posts
Posted on
Transition to Online Learning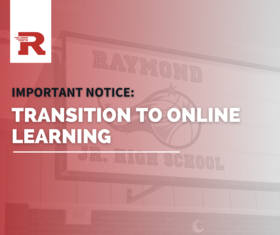 Beginning tomorrow, April 30, 2021, all RJHS students will transition from in-person to online/virtual learning until May 14, 2021. This shift is due to staffing shortages, an increase in confirmed cases of COVID-19 and the number of staff and students in AHS-directed isolation or quarantine. 
The decision to transition to online learning was difficult and made only after careful consultation with Central Office, Alberta Health Services and Alberta Education. We truly appreciate the ongoing support of the entire RJHS School community as we navigate the challenge in front of us. At this time, we anticipate a full return to school-based classes will occur on Friday, May 14, 2021. We respect the challenge this may pose for students and families. 
Teacher-directed lessons and student learning will continue at home during this time. The primary focus during online learning will be on core classes. Some teachers may give students optional activities or projects in their elective courses. 
Teachers will contact students through Google Classroom as soon as possible with further instructions. They will connect with students throughout the at-home learning period. We anticipate using tomorrow to communicate with students, organize schedules, and get technology out to students.
The school will be open tomorrow for non-quarantined students or a family member to come in and pick up materials, textbooks or a computer as needed at the following times:
Gr. 7's 9-9:30 am
Gr. 8's 10-10:30 am
Gr. 9's 11-11:30 am
Finally, we remind families to monitor for any signs or symptoms of COVID-19 using the Alberta Health Screening Questionnaire. Please remember to complete the checklist each day prior to attending school. If you or a member of your family has any of the symptoms of illness listed, please fill out the online Alberta Health Services COVID-19 self-assessment or call Health Link at 811.
Please contact the school with any questions.