Back to all posts
Posted on
National Day for Truth and Reconciliation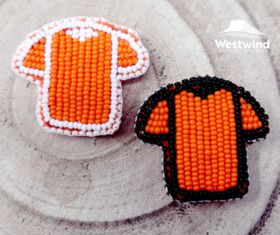 From Westwind School Division: In 2021, the federal government declared September 30 the National Day for Truth and Reconciliation, coinciding with Orange Shirt Day. This overlap is no accident—both occasions serve as crucial education and remembrance opportunities and aim to unite First Nations, Métis, and Inuit communities, local governments, schools, and others in the spirit of reconciliation and hope for future generations.
2023 marks the tenth anniversary of Orange Shirt Day. Residential school survivor Phyllis Webstad began observing this day in Williams Lake, BC, in 2013 at the St. Joseph Mission (SJM) residential school commemoration event, which told the story of her shiny new orange shirt that was taken away from her on her first day of school at the SJM.  
The residential school era began in the early 1870s, with the last school closing in 1996. More than 150,000 First Nations, Métis, and Inuit children attended these schools. There are an estimated 80,000 survivors living today. Orange Shirt Day occurs in early fall because this is the time of year when children were removed from their families and forced to attend residential schools. 
Even though the National Day for Truth and Reconciliation falls on a Saturday this year, its importance remains undiminished. Westwind School Division urges everyone—students, staff, and the wider community—to mark this day in a meaningful way. We recognize that educators have a critical role in facilitating this, as they help guide student understanding of Canada's history and ways we can take steps towards reconciliation. Among the 94 calls to action aimed at building a more equitable Canada, six are explicitly directed at educators.
Our division stands with First Nations, Métis, and Inuit teachers, students, and communities. We recognize Residential Schools' painful and enduring impact on Indigenous people and are committed to initiatives promoting understanding and reconciliation. 
The Raymond Jr. High School will be encouraging students and staff to wear Orange on Friday, September 29. We also look forward to having Cheri Gilbert come in and share her knowledge with students and staff.

Please see the Westwind School Division website for more resources to further deepen your understanding and engagement of Orange Shirt Day and the National Day for Truth & Reconciliation.