Back to all posts
Posted on
Zone Cross Country Races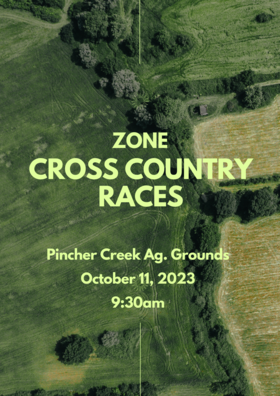 The Zone Cross Country Races will be held at the Pincher Creek Ag Grounds for qualifying runners. Parents were emailed the permission form (on Sept. 25) with a link titled Zone Cross Country Race - the information package includes race maps.
Bus leaves at 7:30am.
ALL STARTING TIMES ARE APPROXIMATE. RACES MAY START EARLIER.
U13 Girls (Bantam, Grade 7) - 2km 9:30am
U13 Boys (Bantam, Grade 7) - 2km 9:50am
U14 Girls (Midget, Grade 8) - 2km 10:10am
U14 Boys (Midget, Grade 8) - 2km 10:30am
U16 Girls (Juvenile, Grade 9) - 3km 10:50am
U16 Boys (Juvenile, Grade 9) - 3km 11:20am